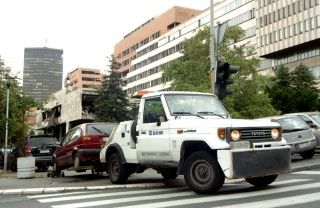 Parking in Belgrade
Although driving in Serbia should be much more of a concern, be aware that parkingcan also become a nuisance in Belgrade. Especially, in the city center. Unlike other public services, the workers of Parking Service are
very
dilligent
.
BeoApartman has a fair number of apartments with own parking (
for a full list check here
), but less than a third of them are in the very center
of Belgarde. More often then not, you may end up having to resort to alternatives.
Hence this page, where we hope to tell you everything you need to know about
parking in Belgrade.
1. Public & Private Parking Facilities
Parking lots, multi storey garages and fast car parks are scattered around the city center. An hour worth of parking wil cost you between 70 and 100 dinars depending on the location. It is the safest and most expesive form of parking. Information on the closest garage or parking lot to the apartment booked with BeoApartman is supplied for each apartment.
2. On-street parking in Belgrade
The city center is divided into 3 zones with a limited parking time. In these areas, parking is charged per hour.You have to pay hourly parking between
7AM and 9PM from Monday to Friday
. On
Saturdays
it's charged between
07AM and 2PM.
On Sundays and bank Holidays is on street parking is free of charge. You can safely park for
up to 15 minutes with no charge
in any of the zones. As soon as this period expires, you have to pay for the ticket. You can tell which zone you're in, either
by looking at signposts
or
the colour markings on parking stall stripes
(red, yellow and green depending on the zone).
Red zone:
(SMS 9111)
maximum parking time 60 minutes
Yellow zone:
(SMS9112)
maximum parking time 120 minutes
Green zone:
(SMS 9113)
maximum parking time 180 minutes
Blue Zone

(
SMS 9118
for a full day, or
9119
for an hour)

You can pay for on street parking in one of the following ways:
1.Pay via SMS
2.Buying a ticket in a vending machine
3.Buying a ticket from the kiosk
4.Buying a ticket from a parking controller

In your SMS you only have to write the plate number of your car, without spaces. Depending on the zone, you send this SMS to 9111 (zone 1), 9112 (zone 2), 9113 (zone 3) or 9119 (blue zone) . After a few seconds you get an SMS which confirms your payment.5 minutes before your parking time expires you get a reminder by SMS.
There are many parking officers and they patrol the areas, so the chance to get caught if you try not to pay is very high. The fine will be 1.870 dinars and if you're really unlucky (or just realy rude) the so called 'spider' may come and tow your car. A hefty fine, towing costs and at least 4 hours to find your car and get it back. So be vary.