Since the ending of the gloomy 1990s and the wartime isolation, Belgrade has reconnected with the world and earned the unflattering title of being one of the cheap hedonistic European capitals in the process . Possibly due to psychosis inherited from the last round of the Balkan wars, most of the locals who were unable to flee the country resorted to excessive partying as means of preserving what was left of their sanity. For many, acting like there's no tomorrow turned into a constant habit, and as it turned out for most – there was none. The trouble is that this mindset has passed on to the present day generations of urban youths in Belgrade, with no signs of tardation. It's no wonder that our city has become one of the unavoidable spots on the routes of backpackers who are looking for unbridled fun.
Among those who promote the potentials of the Serbian capital city, there are some who actually consider Belgrade a romantic place. Enough to make it the forerunner of the 11 most romantic places to fall in love. The stance could be ascribed to change of surroundings (as people do tend to have a peachy disposition on holidays in general), but such unextorted affections from a non-biased third party do spark some local-patriot pride.
On the other hand, it might also be true. It's just that the busy inhabitants of Belgrade forget to stop and smell the roses…
For those who seek a romance in Belgrade there is quite a bit to choose from. However, as definition of romantic pretty much depends on an individual, we won't embark on the thorny journey of defining a romantic vacation in Belgrade. We will, however, attempt to provide a few unbiased hints in an area we feel competent in – and that is Belgrade accommodation. Local wines and clubs should do the rest.
Here is a list of ten apartments that we consider markedly romantic – and each is romantic in its own manner.
10. BLOCK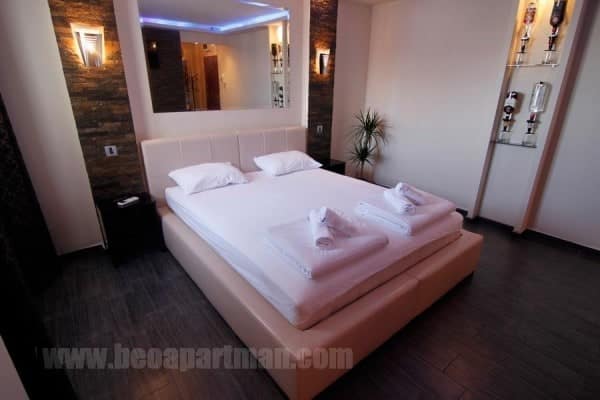 This Belgrade short term rental veteran has been a subject of our praise on many occasions. The sole reason it's on the bottom of this list is the fact that its romantic qualities focus a bit too much on carnal aspects. Its whole interior is subjected to erotic pleasures and kind of devoid of furniture that does not explicitly serve that purpose. This is the reason why the large double bed and the Jacuzzi bathtub for two are its most prominent elements.
9. VERSAILLES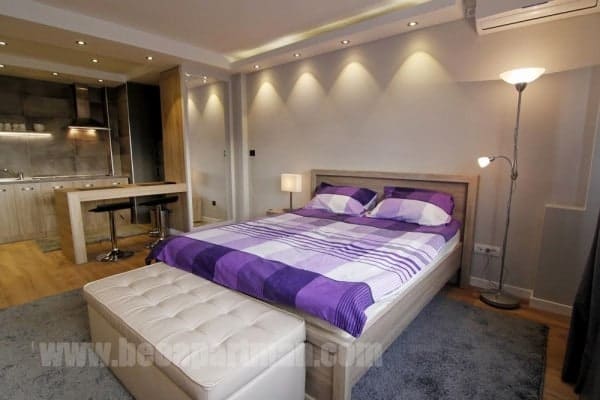 It doesn't get much better than this as far as New Belgrade studios for short term rent are concerned. Contemporary design and brand spanking new furnishings make this apartment fit for romantic encounter between any two fluttering souls. The location is hardly touristy, but Its price is quite competitive.
8.MARINA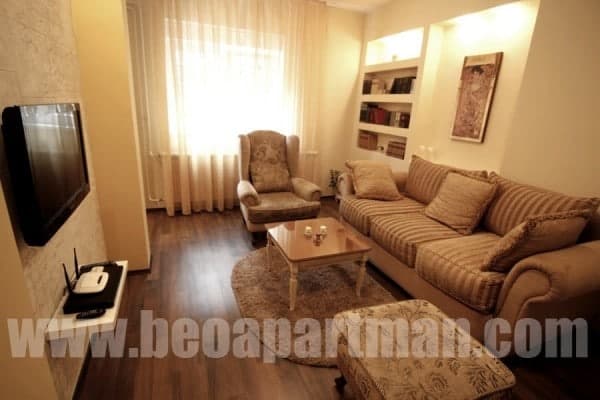 This apartment actually has many qualities that make it suitable for more than just two people. Its gorgeous, snuggled and warm interior, bathes in bland tones of golden brown and its array of tremendously appealing decorative details, make it a perfect spot for a romantic weekend in Belgrade. Its qualities are enhanced even further with its parking spot, which is a rare thing given the location it's in.
7. HAT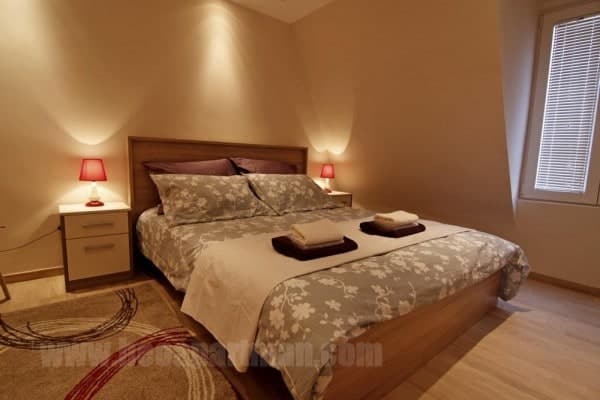 Albeit much plainer than MARINA, HAT also relies on the effect of warm lighting to provide a snuggled interior. If you don't mind the 70 odd stairs (as the building it's in has no elevator) it's almost perfect spot for a foreign romance as it has a striking advantage in comparison to its peers in this list. It is located in the heart of the old Bohemian Quarter Skadarlija which is unrivaled in terms of romanticity.
6.NEVSKIY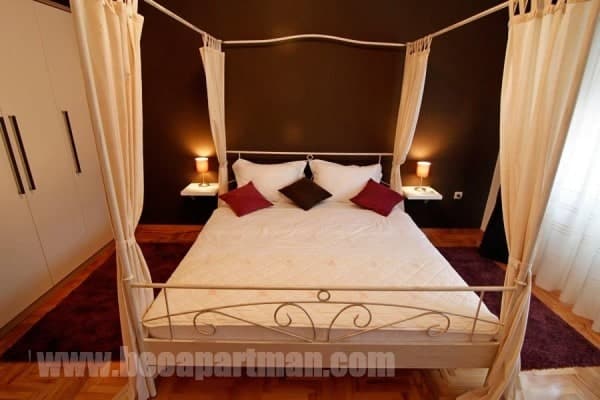 In an area not far from HAT, this apartment which can accommodate four with utmost ease, has one of the most impressive bedrooms we've encountered so far. The fine choice of colours, numerous soft rugs and the only double bed with baldaquins in our current offer guarantee many happy memories to those who share their intimacy in this ambiance.
5. LOUIS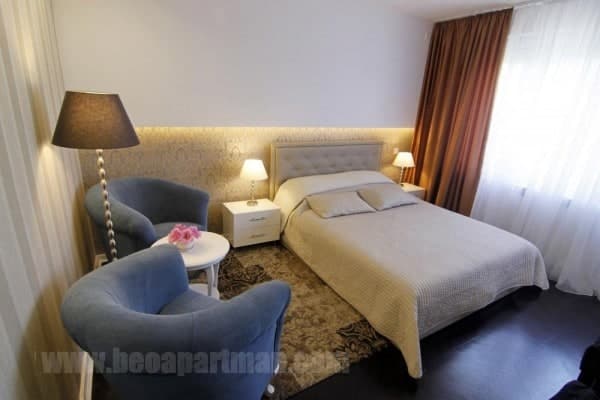 In spite of its regal name, LOUIS is a perfect place for a romance even if your budget is not so aristocratic. Nested in one of the most vivacious parts of Vrachar, this perfectly arranged studio has all the secret ingredients to make a couple feel nice and cozy on their romantic adventure. Sonoma, pigeon blue and black with upholstered headboards will become your standard requirement once you've stayed in LOUIS
4. MIRROR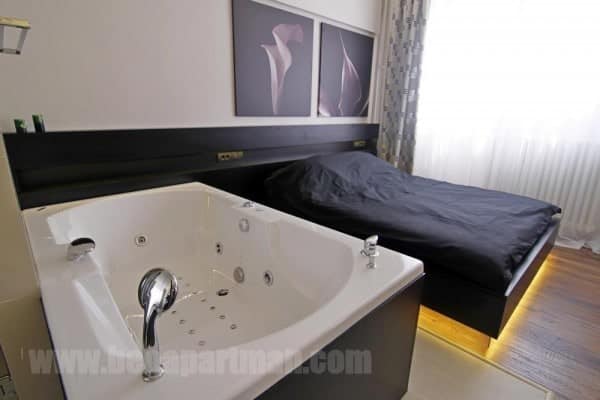 If BLOCK was lascivious, MIRROR might be seen as a romantic spot in the eyes of Y generation. With emphasis on simple forms and literally churning with reflections, MIRROR boasts its uninhibited luxury. The bedroom's interior will sweep affections of all sexes – the large double bed with black satin sheets and hydro-massaging bath for two next to it will take you.
3.ZENITH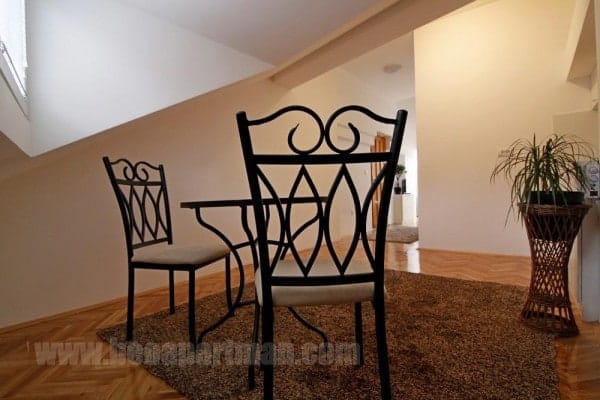 If there's a single authentic thing left of the old Bohemian Belgrade, it's the dilapidated, crumbling entrance into Dorchol around Baylonee green market, and that is exactly where ZENITH is. Its simple, yet very eclectic furnishings are also reminiscent of those more romantic times. The cozy spot on the top floor of an old apartment building and a walk through this run down part of the capital will most definitely summon some melancholy.
2.INTIMO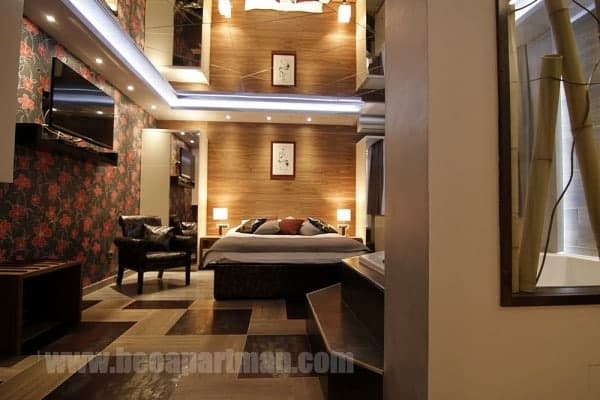 If mirror coated ceilings and hexagonal jacuzzi bathtubs are synonymous for romance, then INTIMO is the most romantic and luxurious romantic abode in Belgrade. Unlike BLOCK, however, this handsome devil from Chubura has its own kitchen and a beautiful bathroom in addition. The decorative details are memorable.
1. BATH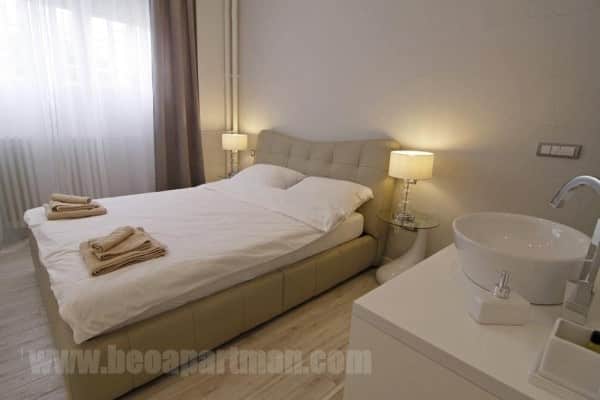 BATH is a less gaudy version of MIRROR with which it shares the building and has one of the best mixtures of gentle and conspicuous. Ace up its sleeve is its bedroom, which has a bathroom integrated into it, However, this one is even more special, because it boasts a self standing oval shaped bath which ennobles its interior and makes it an unforgettable romantic abode for two in Belgrade
Of course, this list does not deplete the possibilities for romantic abodes in Belgrade. Many other apartments for short term rent deserve to be called romantic, but this chosen few stands out. So if your budgets allow, none of these apartments will be a fluke.