We present  PINBALL – the most original apartment for short term rent in Belgrade since OCEAN and MEDUSA came along.
And its bright and cheerful colors that greet you at the entrance, hint it from the start.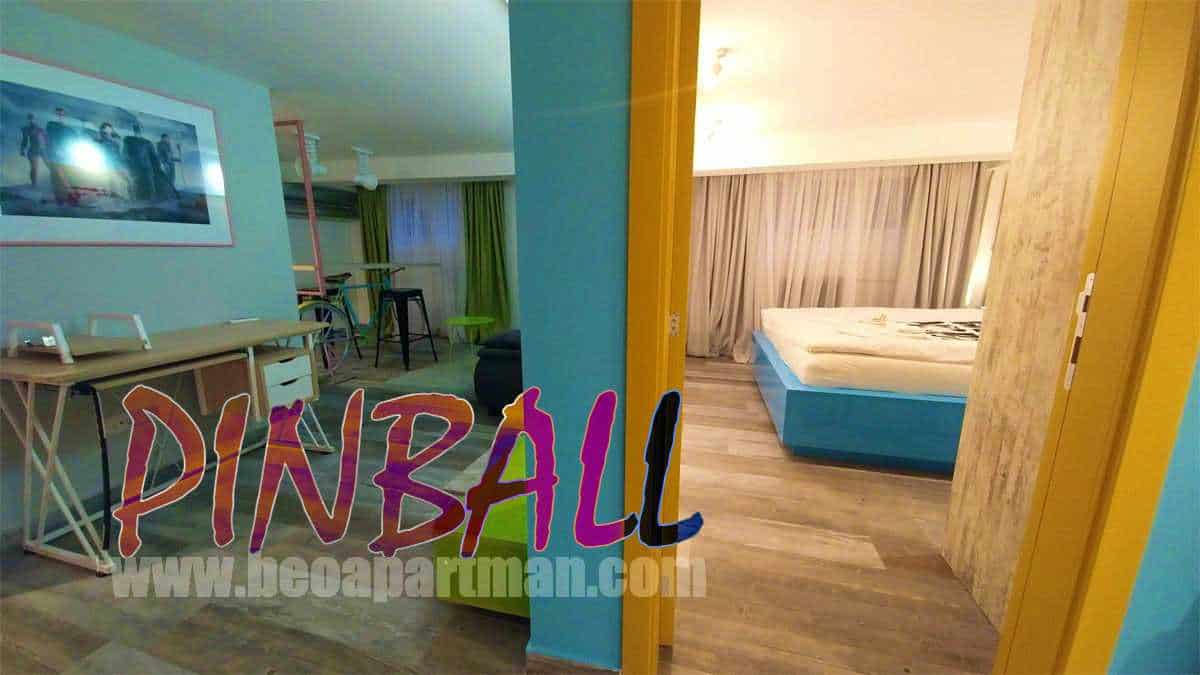 A few other things also become clear…
To begin with, PINBALL is a basement flat. This fact alone makes it more suitable for a party than almost any other, because the possibility of disturbing your neighbours is reduced to a minimum.
The ceiling, therefore will not be too kind to those who are over 6.9 feet tall. Although it was a bit taller in the beginning, a layer of soundproofing has made just a bit above the 7 foot line.
You will also notice that the apartment has 80 square meters of floor area. This is pretty generous given Belgrade average, but for a basement flat it is a downright splurge…
The last and the most pleasant surprise about PINBALL is the fact that the bulk of this space is given to the fun-room. No other apartment in Belgrade has it and it is the reason we dubbed it a party apartment in Belgrade. But more on that is to come.
The hallway stems into four separate rooms.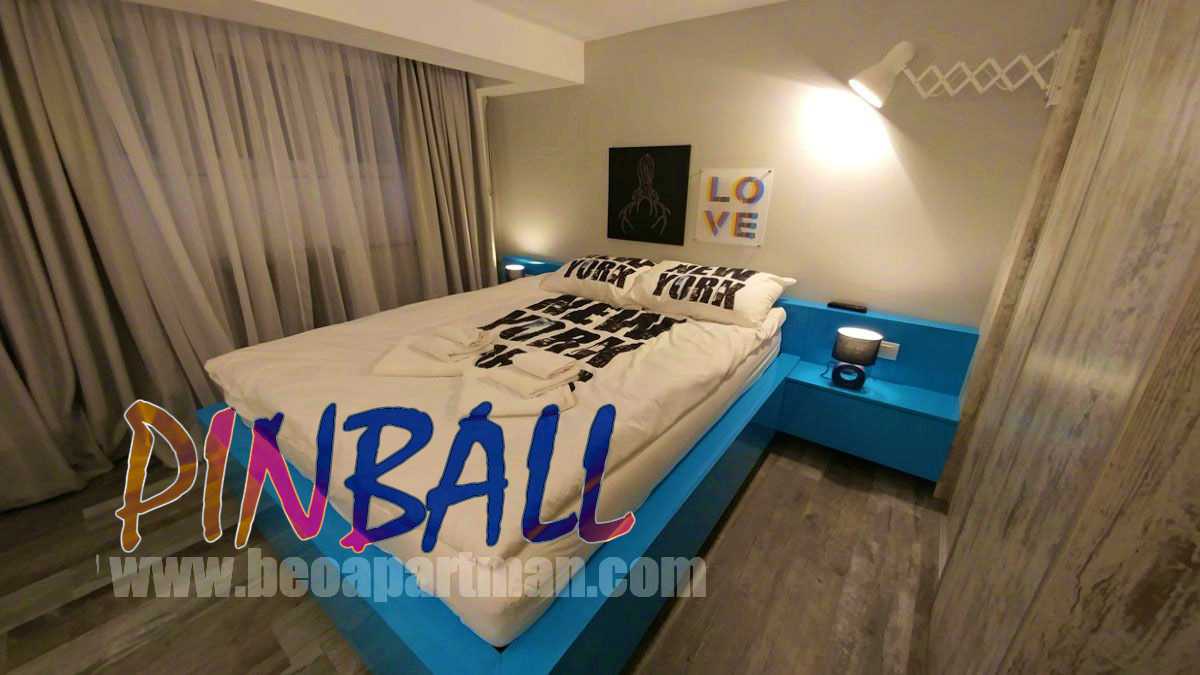 The first in row is the bedroom. And disregarding the fact that it-s fairly unlikely that it-ll be used for that purpose it is still quite pleasant. The large wooden, cyan-colored bedframe extends into two neat little nightstands and comes as a welcoming contrast to an otherwise khaki nuanced coating of the rest of the room.
On the wall opposite the headrest is a large TV and just above it are two neat little details. One is a speed-painting riddle (you need to turn it upside down to figure out what the actual blotch represents) and the other is a form of op-art. It comes with a comparatively large wardrobe so you won't have to throw the jackets on the bed.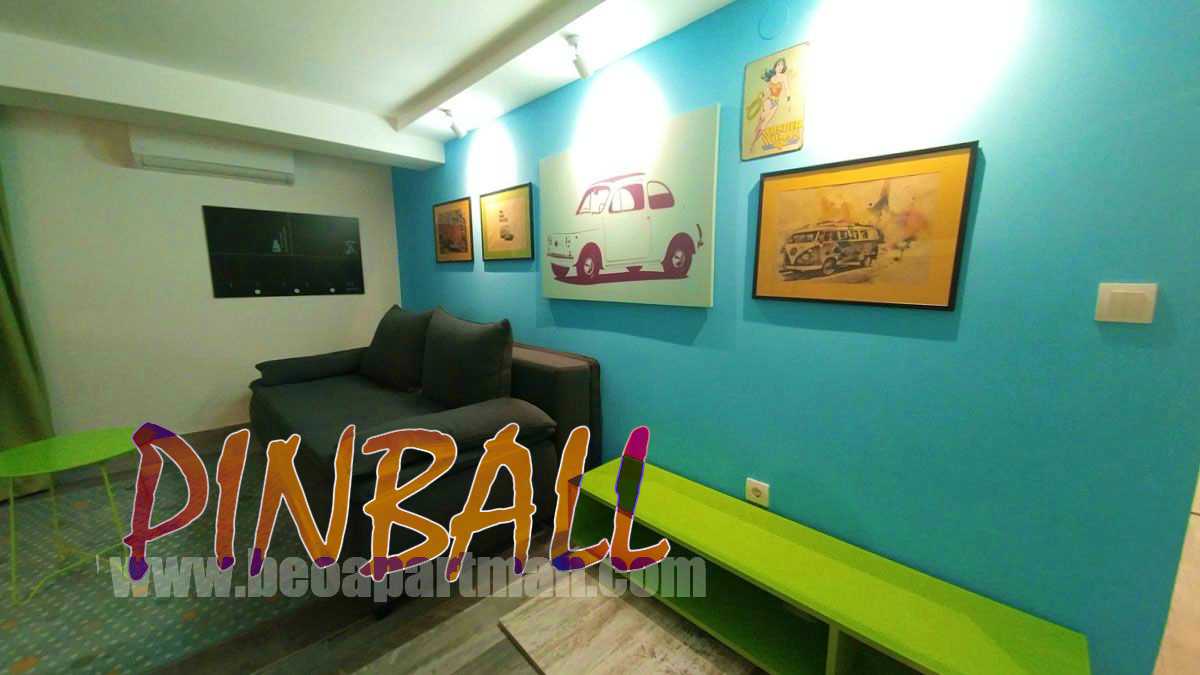 From there, the space practically blends into something that may be regarded as an expanded kitchen or an extended living room, but it's neither in its true sense. It is an L-shaped room with a number of original and practical elements of interior.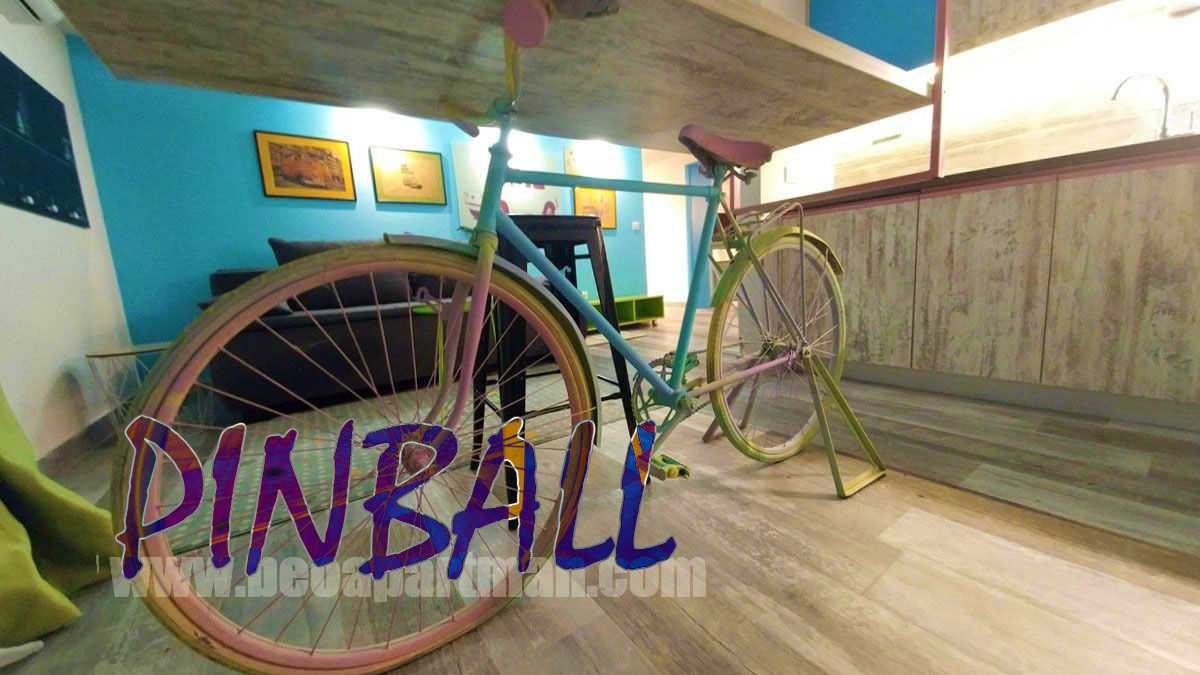 This cyan colored room has a dark grey sofa that extends into a double bed. There is a breakfast bar placed on an adorably colored bicycle. A kitchenette, a workbench, a green shoe-rack bench and a number of other authentic decorations embellish the atmosphere (such as a group portrait of DC superheros, a stylish watercolor sketch drawing of Fiat 600 and a Volkswagen Type 2).
The third in line is the small and neatly arranged bathroom. It's modest surface packs a shower cabin and a rather large boiler. The answer to what it heats lies in the last room.
Which is the fun-room.
And it greets you with all that you may have expected…and then some.
The first thing you'll notice is that this is the most spacious room in the apartment.
And it is packed with allsorts.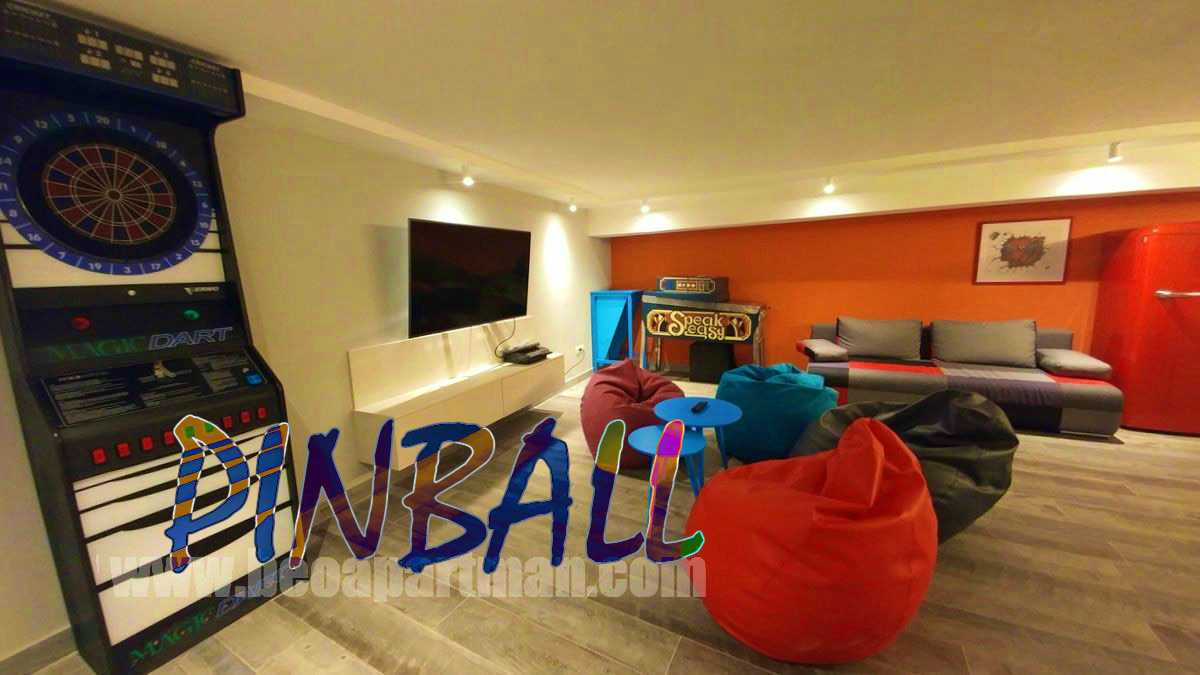 Right next to the door is a proper Magic Dart electronic dartboard, a TV with one of the most sizable screens in our offer, four lazy bags scattered in front of it, and a proper Speak Easy Pinball Machine in the far corner of the room. One other piece of vintage paraphernalia (likely to be appreciated by those who grew up in post socialist environments of the 1990s) is also there: a real tabletop electronic poker machine.
Of course, it is just for fun. Don't expect to be paid out if you win.
The ambiance is further spruced up with a huge octagonal Jacuzzi bathtub. Hot water for it comes from the huge boiler you saw in the bathroom. This rather unexpected but quite likable installation can fit four persons at the same time. They can enjoy both bubbles coming from the jets and champagne glasses.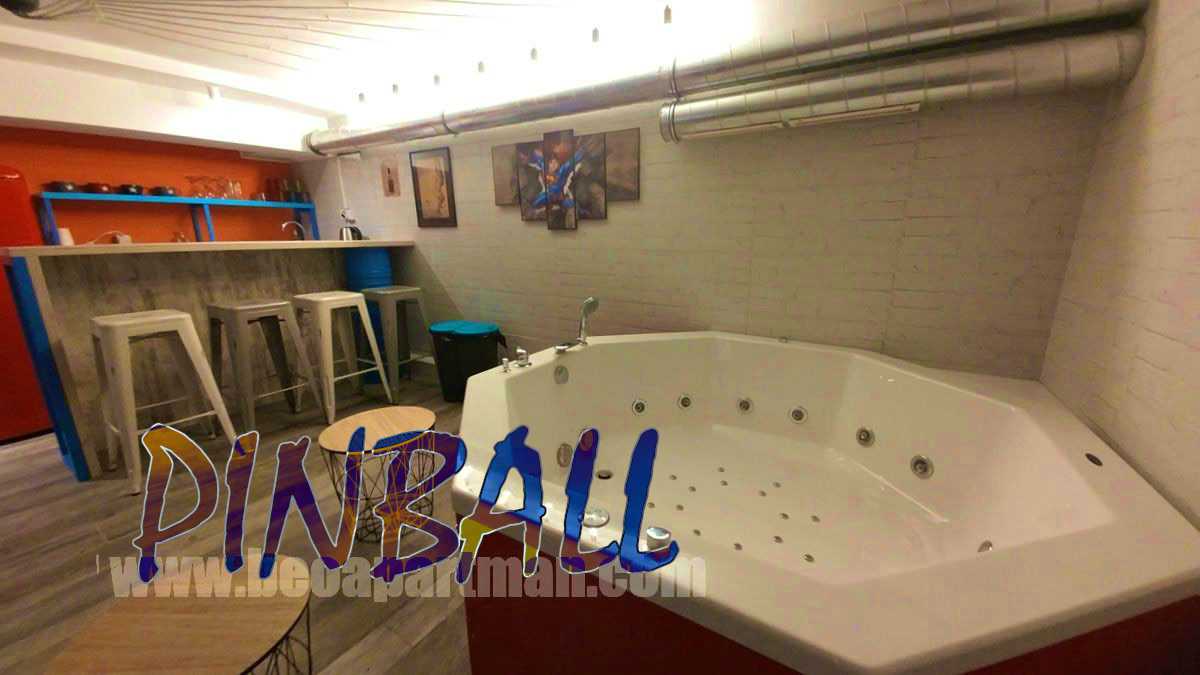 Finally, there is a proper mini-bar in the far corner of the room with four bar stools stacked in front of it. A large red refrigerator (a second in the apartment)and appropriate glasses for all sorts of drinks and beverages wil surely attend to the needs of all the guests.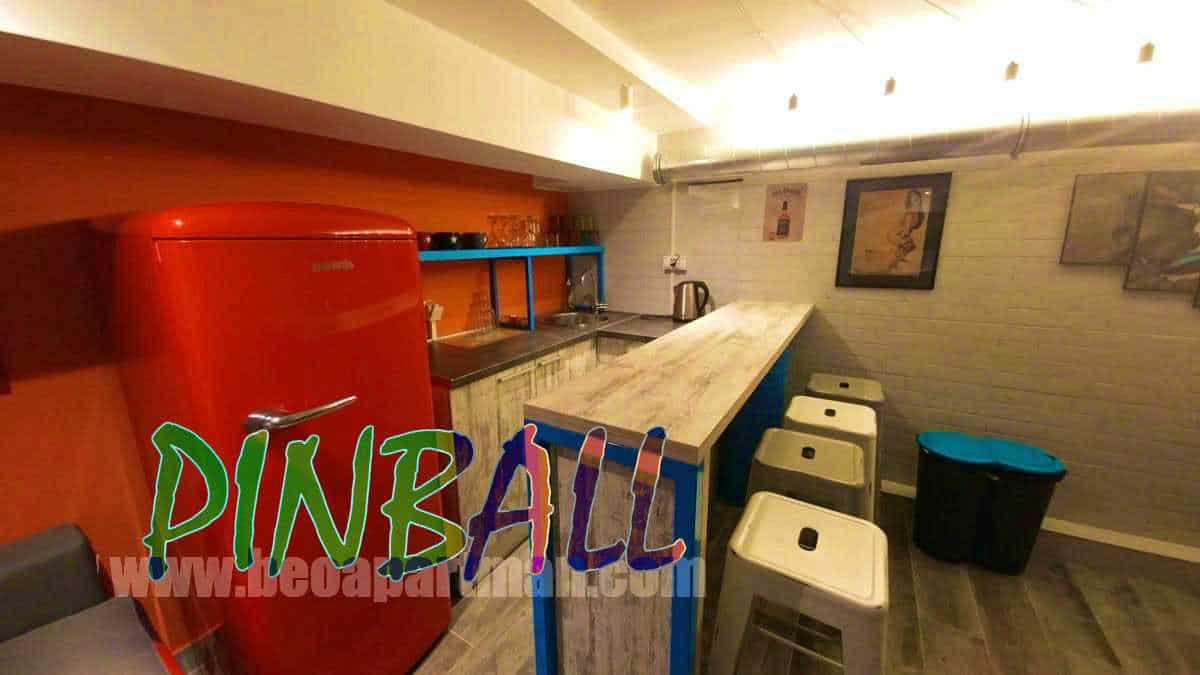 Walls have illustration s of pin-up girls, super heroes (DC and Marvel alike, as well as football) scattered across them. In addition to the multitude of portable chairs and tables, it has a second sofa that folds-out into the third double bed. Therefore, six people can sleep in PINBALL.
Truth be told, the gentler sex seems to feel instant disgust on the mere utterance of the word basement. It seems to imply moist, damp and stiffing. This would probably be true, if there weren't for the huge ventilation pipes that pass through the apartment. The two ACs in the other two rooms do the same thing.
Another, not least bit less important thing is its location. PINBALL Is in the very centre of Belgrade, just a minute's walk from Beogradjanka, Terazije square, the Old Palace and the likes. All commercial establishments in the surroundings (shops, bakeries, supermarkets, pharmacies and the likes) work pretty much round the clock. Hence even if you run out of something, you will able to find it in the immediate neighborhoood.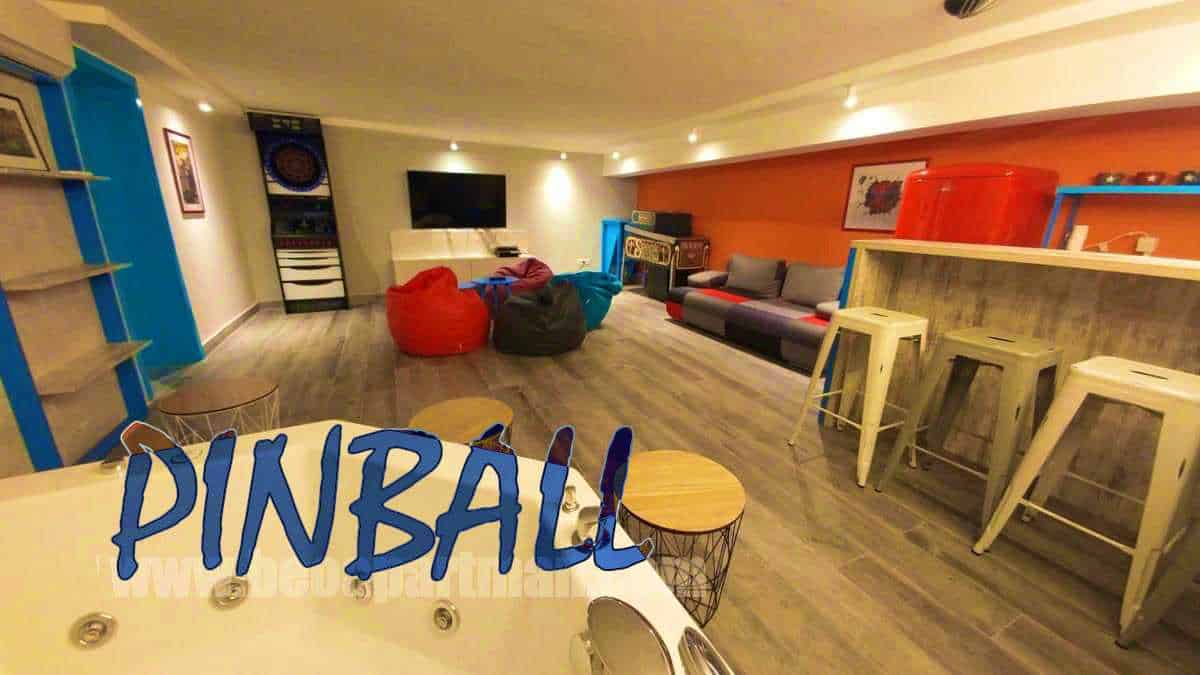 In short, you are facing a pretty cool spot for an over-thirty gathering and a place for people who get the gist of good times. It is for sure that its eclectic and slightly jocular style won-t leave you indifferent. The whole atmosphere in the apartment will appeal to those who were born in the late seventies and early 1980s. Needless to say its aesthetics was tuned for their appreciation.
To say that this is not a place for revelries is somewhat superfluous. Neither its looks or price should suggest it.
But if you do have an adult approach to fun, then this is indeed the only party apartment in Belgrade.
If you started having ideas how PINBALL could become part of your memories too.
Check its availability straight away, by clicking the button below. Or just call us directly on +381 62 708 000